La Comunidad News Online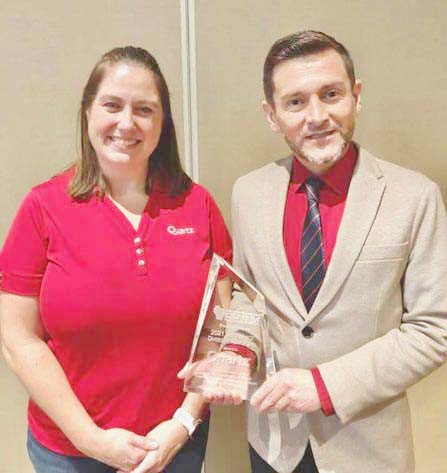 Madison.- El mejor equipo de la diversidad de Quartz está liderado por el carismático y dinámico Diego Campoverde-Cisneros, quien hoy acaba de anunciar la excelente noticia que esta compañía que se dedica a ofrecer planes de salud a la población de Madison, en especial a la comunidad Latina, ha recibido el premio "Premio 2021 Defensor de la Diversidad, Inclusión y Flexibilidad en el Lugar de Trabajo"; otorgado por la Sociedad de Gestión de Recursos Humanos del Consejo Estatal de Wisconsin." Lo cual es un alto honor para Quartz y su personal.
"Hoy, tuve el privilegio de representar a Quartz, junto con mi compañera de trabajo y campeona de DE&I, Crystal Everson, para recibir el premio 2021 Workplace Diversity, Inclusion and Workflex Advocate Award otorgado por la Wisconsin State Council Society of Human Resource Management." Explicó Diego Campoverde-Cisneros muy emocionado.
Quartz no podría avanzar en nuestro viaje sin el apoyo de nuestros campeones de DE&I y colegas en Quartz en las comunidades a las que servimos. ¡Este premio nos pertenece a todos! Exclamaron: Kimila Jones, Daniels Olivia, Rico-McKeen y Tom C. Ward.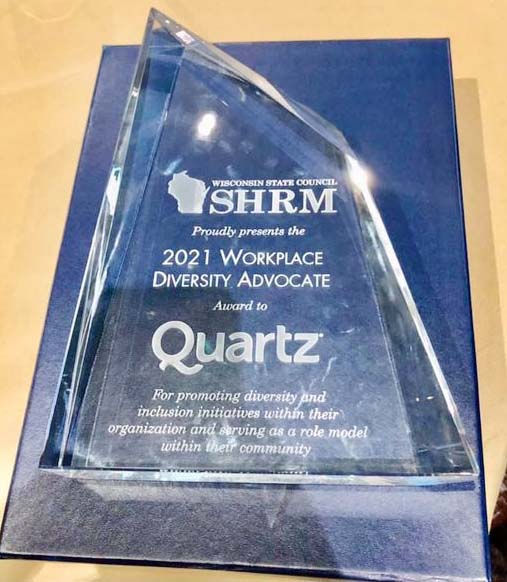 Yuly Maureen Osorio Correa, por su parte, dijo: "¡El mejor equipo! Estoy muy agradecido por todo el apoyo y el compromiso excepcional con nuestras comunidades. Mil gracias Quartz."